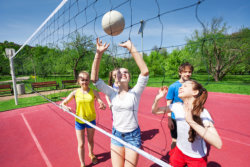 At Teen Depression, we offer our Day Treatment Program for teenagers between the ages of 12-17 years old who are suffering from depression. When depression starts to interfere with a teen's daily life, performance at school, relationships with family and friends, and when a teen starts to feel overwhelmed by their negative thoughts and feelings, we highly encourage them to participate in this program.
Our Day Treatment Program is suitable for teenagers who want to receive a more concentrated and intensive depression treatment, while still having the ability to go back home after every session. Our Day Treatment Program features include comprehensive patient assessment, diagnosis of the patient's condition, structured and carefully monitored day treatment, therapeutic activities, individual or group therapy, half or full-day program options, school and family coordination, providing patients with effective coping skills, and more.
As a concerned Southern California based Teen Depression Rehab Treatment Center, it is our primary goal to help teenagers overcome their struggles with depression. We understand how debilitating depression can be, and how much it can affect a teenager's life, which is why we strive to provide high-quality programs that can effectively help them.
Depression can make you feel hopeless and alone, but please know that is not true. At our Teen Treatment Center in Los Angeles, we understand what you are going through, and we are willing to listen to you. We have qualified mental health professionals who can provide the guidance and support that you need so that you can overcome your struggles with depression. If you are interested in learning more about Teen Depression Treatment in Los Angeles, California, please contact us at 888-226-0766 for further discussion.