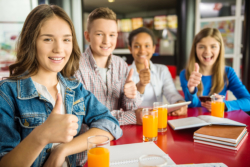 At Teen Depression, we want to help teenagers between the ages of 12-17 years old feel less alone in their struggle against depression and other mental health issues, which is why we are offering our Group Therapy sessions. As the name suggests, Group Therapy involves a small group of people and a therapist. As a dependable Southern California based Teen Depression Rehab Treatment Center, we aim to provide teenagers with a private, safe, and judgment-free space where they can talk with different people who truly understand what they are going through.
What happens during Group Therapy?
As mentioned, Group Therapy involves a small group of people and each session is facilitated by a qualified mental health professional. During Group Therapy, members of the group are encouraged to speak up and to share their thoughts, experiences, and feelings with the other members of the group. However, it is important to note that those involved will not be pressured or forced to talk, in fact, some group members may take days or even weeks before they are ready to open up. In the meantime, members who are not ready to talk yet can still stay with the group and listen to others talk. Group Therapy sessions are confidential, and they are conducted in a private and safe room where teenagers are free to talk without fear of judgment or ridicule.
What is the goal of Group Therapy and how long does it last?
While individuals involved in group therapy may have different goals in mind, generally, the goal of Group Therapy is to provide teenagers with the opportunity to talk to others who are going through similar experiences. Group Therapy reminds teenagers that they are not alone in their struggles, that there are people out there who have gone through similar experiences, and that there are others who can truly empathize with their feelings. Group Therapy also provides teenagers with the opportunity to talk about their experiences, to listen to others' stories, and to relate to other people like them. The length, duration, and frequency of a Group Therapy session can depend on the group's needs, goals, and progress.
If you are looking for people who truly understand what you are going through and have gone through similar struggles, we encourage you to join our Group Therapy sessions at Teen Depression. For assistance, give us a call at 888-226-0766 to speak with one of our representatives.