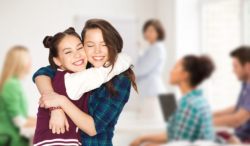 At our Teen Treatment Center in Los Angeles, we are advocates for proper education and academic success. We understand that teenagers go through some struggles when it comes to their education, but still we want to encourage them to continue with their education for their future success.
For teens struggling with their academics or are struggling with school due to bullying, isolation, anxiety, low self-esteem, and other school-related issues and concerns, we would be happy to help. We have qualified mental health professionals who can:
Help you identify your struggles and provide ways to overcome them
Provide you with self-help skills
Provide one-on-one counseling
Teach you to be more confident
Provide you with effective stress management skills
Provide career advice
Provide teen anxiety treatment
At Teen Depression, our counselors will work closely with you so they can better understand your struggles. From there, they will provide you with a customized treatment plan so you can overcome whatever problems you are having with your school and education.
Don't let your depression or mental health concern hinder you from getting the education that you need. We understand that it isn't easy, and that there are countless emotions that you are struggling with, but we are here to help you. We offer Teen Depression Treatment in Los Angeles, California that enables you to acquire the therapy that you need, while still providing you with the opportunity to continue with your schooling.
At Teen Depression, we have a Director of Education who can coordinate with your family and school. In doing so, we make sure that your therapeutic and educational needs are still being addressed, and that one isn't conflicting or hindering the other. As much as we want you to overcome your depression, we also want to see you succeed and thrive in school.
We want to see you succeed, and we are here to help you overcome any difficulties and struggles that you are facing. Please contact us at 888-226-0766 if you have any concerns.