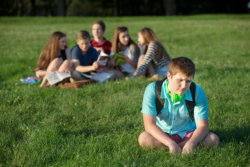 At Teen Depression, our Depression Treatment and Teen Depression Therapy is grounded on evidence-based treatments and methods, all of which are carefully selected to best match the needs of our teenage clients.
Depending on the needs of the teen, we offer the following options for Teen Depression Treatment in Los Angeles, California:
Individual Psychotherapy

This treatment option is suitable for those who seek private, one-on-one psychotherapy sessions with our counselors.

Group Therapy

This therapy option provides our client with the opportunity to come into therapy with their family or friends. Group Therapy can also entail a group therapy session involving the residents of our facility.

Holistic Therapies

We offer holistic and evidence-based therapies that can cater to our client's emotional, physical, and mental health needs.

Residential Depression Treatment

We offer our Residential Depression Treatment option for those who wish to receive rehabilitation and care 24/7.

LGBTQ Depression Therapy

Teenagers who fall under the LGBTQIA+ community typically go through a lot of struggles from homophobia (both societal and internalized), gender identity crises, and more, which is why we offer LGBTQ Depression Therapy to help them better cope with their circumstances.

Mental Health Treatment

We have knowledgeable and qualified mental health care professionals who can provide a wide range of mental health treatments from counseling to prescribing appropriate medications.

Depression Rehab

For teenagers struggling with depression, our Teen Treatment Center in Los Angeles offer Depression Rehab to help them better understand and manage their situation.
If you are interested in learning more about therapy options available, please contact us at 888-226-0766 for assistance.