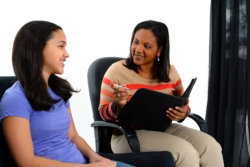 Life is beautiful and something to be grateful for. However, a teen who suffers from depression may not see it. As a result, he or she ends up not being happy with life even wishing to end it in an instant.
At our Teen Treatment Center in Los Angeles, we are here to let our teenagers feel that they are precious and loved. We are a Southern California based Teen Depression Rehab Treatment Center, primarily helping teens between the ages of 12-17 years old. We strive to help teenagers in their battle against depression and other life struggles. We aim to help them through personalized treatment programs that will uncover the real reasons behind their condition and to identify the proper steps to uplift their lives. We also practice confidentiality when interacting with our teens as well as their families.
Depression can make you feel alone, misunderstood, and helpless, however, that is not true. At Teen Depression, we have mental health professionals and other residents who understand what you are going through. Depending on your level of comfort, you can choose individual or group therapy sessions, or a combination of both. Regardless of what therapy method you choose, you will be talking to someone who can fully understand your situation and can provide you with the guidance that you need.
Aside from individual and group therapy, we also offer several Depression Programs and therapy methods. Depending on your diagnosis and severity of symptoms, we may choose a program that best suits your needs. We understand that our residents have different needs and care requirements, and we endeavor to personalize our programs for Teen Depression Treatment in Los Angeles, California.
At Teen Depression, we dedicate ourselves to helping teenagers and their families overcome depression and other mental health concerns that they are going through. Teenagers between the ages of 12-17 years old are still so young, and we want them to overcome their depression so that they can see that they still have so much of their life ahead of them. Let us help you and your family today.
Mission Statement
Our mission at Teen Depression is to transform the lives of teenagers between the ages of 12-17 years old. We aim to help them live happier and successful lives by helping them overcome depression and other mental health concerns that they are struggling with. We aim to achieve our mission through the provision of reasonably priced structured, and personalized treatment programs that are delivered by qualified and compassionate mental health professionals.
Your emotions of depression may be strong, but YOU ARE STRONGER! Battle your depression with the help of your family, friends, and Teen Depression. Contact us at 888-226-0766 today for your queries regarding our programs.