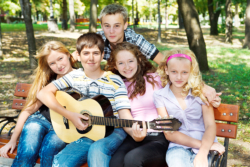 Rehabilitation and Teen Depression Therapy involves a number of steps that are necessary for you to recover fully. At our Teen Treatment Center in Los Angeles, you can expect to:
Have your situation evaluated by your depression counselor. After the evaluation is done, the counselor will identify your needs and base the treatment program from them.
Be prescribed with medications for depression. A primary care physician will be the one to order prescriptions that you need to take. The medications will be incorporated into the treatment program.
Be treated with respect and confidentiality. We follow a code of ethics when working with our clients.
As a teenager, you might feel like you aren't being heard or that your problems aren't being taken seriously. You might feel alone in your struggles, and you might feel like no one understands what you are going through. At Teen Depression, we want you to forget all of those negative thoughts, and we want you to remember that you are not alone.
If you can't turn to your family or friends regarding your depression, you can always turn to us and you can trust us to listen to your struggles. Besides being mental health professionals, we genuinely care about you and your well-being, and we make every effort to help you overcome your depression.
Contact us at 888-226-0766 for more information. Allow us to help you on your journey towards healing and recovery through Teen Depression Treatment in Los Angeles, California.